MINICE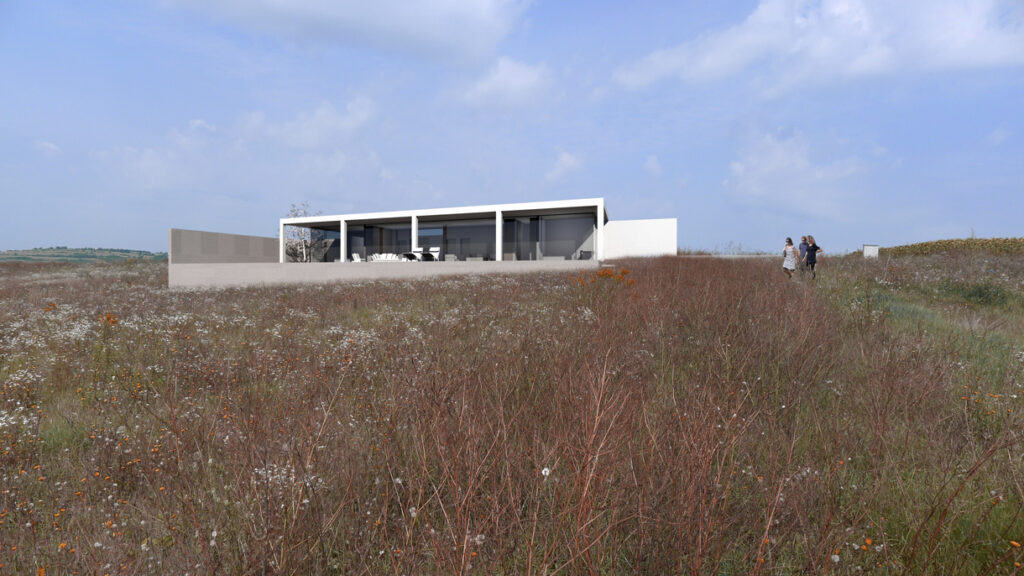 Two volumes, two roles. Kahnian organization of spaces with feather-light Miesian pavilion.
Site
Situated on a gently sloping hill with a brook at the bottom and charming view of the township in the nearby valley. Learning from the great masters we have established a solid platform – a plane of Farnsworth House or De Blas House – a foundation for the house, a solid base for everyday life. The space for living is very simple pavilion – hollow core planks create flat roof supported by concrete columns. Precast system allows for large span, low-e coated insulated glass for comfortable and sustainable life full of light. Canopy extends outside to protect from rain and sun. The house opens up towards southern warmth and picturesque views of the vernacular.
Section
What is hinted on the outside, clearly unveils on the inside – a simple composition of two volumes allowing for exceptional light conditions – Warm Southern Sun and soft Northern light – and programmatic interrelations – while all services are contained in a smaller solid volume, the main space is rather simple and open.
Plan: 4+1
The plan, simple and efficient, works on one level only. All programmatic relationships are carefully considered and the local building regulations taken into account. The plan is drawn on four modules. The fifth module is utilized as a private courtyard – a garden within a garden.
Location: Minice, Czech Republic
Status: Under Construction